The world of H.C. Berann

---
The life of Heinrich Caesar Berann (1915-1999)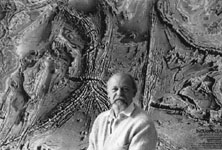 ---
Prof. H.C. Berann, the father of the modern panorama map, is renowned throughout the world for his combining old European painting tradition with modern cartography to produce his unique panorama maps.

He was born into a family of established painters and sculptors on March 31st, 1915 in Innsbruck, Tyrol. Nevertheless his artistic efforts were initially not supported by his father and he taught himself by trial and error. In the years 1930-1933 he attended the arts and design school "Bundeslehranstalt für Malerei" in Innsbruck.

The great recession of the thirties did not allow him to make a living as a painter and he had to work as an independent artist and designer. His future career was decided by his winning the first prize at a competition for a panorama map of the newly opened "Großglockner Hochalpenstraße" mountain pass road in Austria in 1934. Using his artistic heritage and new self-discovered techniques he invented a new way of painting landscapes for touristic purposes. In the following years he improved this technique, created the modern panorama map and became famous all over the world for his maps that are in a class of their own.

The further development of both these panorama maps and his artistic style was influenced by lasting impressions he received during his military service in Norway and Northern Finland in 1942. The most prominent example are his trademark cloud formations. Another deep influence was the marriage to Ludmilla Herold in 1941 and the birth of his daughters Elisabeth and Angela.

In 1944 he had the opportunity for anatomical studies with Dr. Wirtingen in Vienna and to learn from the sculptor Prof. Gustinus Ambrosi. After the war he could also devlop his artistic side as a painter thanks to the generous support of Prof. Paul Schwarzkopf.

All his life has been split between his passion, the art, and his profession as a cartographer, as is symbolized by his sign, the balance. Since 1952 he lived in his house in the mountain village of Lans near Innsbruck, Austria. There he died at the age of 84 years on December 4th, 1999.

The works for hire

Prints for sale


The art
Reprints for sale

---
Created and maintained by the family of H.C. Berann - info@berann.com

Unless stated otherwise, all images on this web site are copyrighted (c) by Berann, the National Geographic Society (USA), Mair's Geographischer Verlag or other copyright holders. Reproduction of or linking to the images is not permitted without the express permission of the copyright holder.