The world of H.C. Berann

---
The panoramas
Prof. Berann is famous all over the world for his panorama maps:
Prints of a few of the maps are for sale.

---
The touristic maps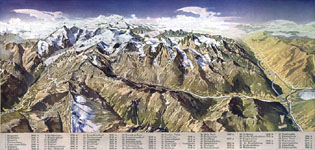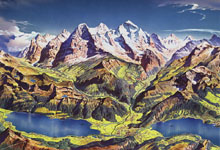 H.C. Berann's cartographic career started in 1934 with his first map on the occasion of the opening of the "Grossglockner Hochalpenstrasse" mountain pass road in Austria (shown above). The next milestone was his first panoramic map done abroad in 1937 for the famous "Jungfraubahn" mountain railroad in Switzerland (a later version shown above). Hundreds of maps followed in the decades after the second world war, including the selection of older and recent maps shown below:
---

The olympic maps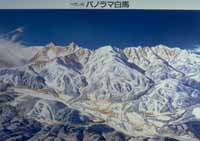 His fame as painter of panorama maps spread rapidly and brought him contracts to paint maps for several olympic games:
Cortina 1956
Rome 1960
Innsbruck 1964
Innsbruck 1976
Sarajevo 1984
---
Maps for the National Geographic Society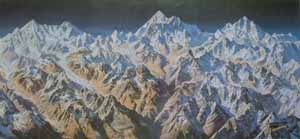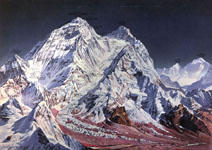 It did not take long and his fame spread overseas, where the National Geographic Society became aware of his talent and asked him to paint two Himalayan maps in 1963: an overview of Khumbu Himal and a map of Mt. Everest (both shown above). A fruitful collaboration over many years followed.

---
The Ocean floor maps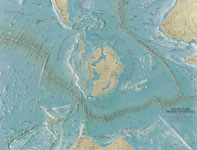 The collaboration with the national Geographic Society also lead to maps of the ocean floors starting in 1966. In co-operation with the pioneer of oceanography Prof. Bruce Heezen of the Columbia University, NY, and his assistant Mary Tharp maps of all the ocean floors were created. This co-operation culminated in the famous World Ocean Floor map done in 1977 for the Columbia University and the U.S. Navy.

---
Other overseas maps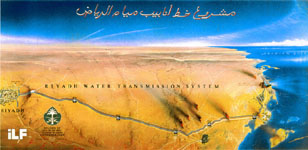 Other overseas contracts were quick to follow, including:
1976 Three maps of South Africa
1978 Map of Mt. Fuji, Japan
1983 Maps for the water pipe-lines of Mekka-Taif and Rijad
---

Subcontinental and continental maps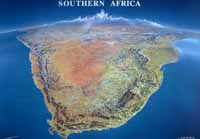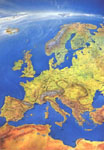 In the last decade of his professional work he painted, besides uncountable maps of tourist resorts, also a few large area maps, including:
1989 Map of Europe for "Mairs Geographischen Verlag"
1991 Map of North America for "Mairs Geographischen Verlag"
1993 Map of France for "Mairs Geographischen Verlag"
1994 Map of Southern Africa for the South African National Tourist Office
---
U.S. National Park Maps
A final highlight in his last decade of professional work is a series of maps for the United States National Park Service done bewteen 1986 and1995. It includes his final map of the Denali National Park and Mt. McKinley that concludes his more than six decades of cartographic work:

| | |
| --- | --- |
| Cascades National Park | Yellowstone National Park |
| Yosemite National Park | Denali National Park |
---
The works for hire

Prints for sale


The art
Reprints for sale

---
Created and maintained by the family of H.C. Berann - info@berann.com

Unless stated otherwise, all images on this web site are copyrighted (c) by Berann, the National Geographic Society (USA), Mair's Geographischer Verlag or other copyright holders. Reproduction of or linking to the images is not permitted without the express permission of the copyright holder.